What's
New?
-DWAB WIKI

Meet
the
Family!
"My family is like most families..."
In "Dog With A Blog," Tyler and Avery are new step–siblings. Tyler is popular, charismatic and seems to get by solely on his looks, and Avery is smart, socially responsible and despises guys like Tyler. However, the biggest adjustment for the newly blended family comes with their new dog Stan – who talks and blogs. He's smart, a bit of a trouble maker and loves his new family, who must keep his marvelous ability a secret. Stan's canine point of view, whether in the home, in the yard or on his blog, helps the kids navigate both their new sibling situation and ultimately, becomes the tie that binds the family of six (Tyler, Avery, little sister Chloe, Mom, Dad and Stan). Even though he talks and likes a lot of "human" things, Stan is still pure dog. He chases his tail, barks at mailmen, ardently approaches poodles and is not so wild about cats.
-DWAB WIKI

Did
You
Know?
Want to add relevant facts about the show? Click
here
!
...that you can view Stan's blogs on SeeStanBlog.com?
...that four members of the cast have either starred or guest starred in the Disney XD original series, I'm in the Band? Stephen Full, voice of Stan, starred as Ash Tyler, G. Hannelius guest starred as Ms. Dempsey in one episode, Beth Littleford starred as Beth Campbell and Regan Burns guest starred as Mr. Morton.
...that Blake Michael appeared on the HBO series True Blood in the role of Teen Alcide?
...that Dog with a Blog was renewed for a second season in February 2013?
...that G. Hannelius is also a singer?
...that G. Hannelius has a YouTube nail art channel, called GByGNailArt?
...that G's full name is Genevieve?
...that Stephen Full who plays Stan and G. Hannelius who plays Avery have met when G. was on I'm in the band?
...that the episode My parents posted what? was a special episode to kids about internet safety?
...that G. Hannelius is guest starring on Jessie as Mackenzie on [[Creepy Connie 3 The Creeping.
-DWAB WIKI

Featured
Article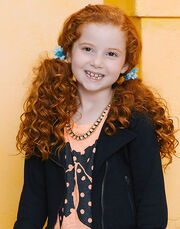 Chloe
Chloe is the seven year old sister of Tyler and Avery. Chloe is naive, sweet, and bubbly. She is shown to have psychological problems and often does crazy things. Avery notes in the pilot , that when Tyler tries to get Stan to fetch a ball and Chloe goes to get it , that it is cute," until she chases a car". A running gag in the show is that her parents always forget her at some place, and when they realize it, they scream at the same time, "Chloe!". Chloe has a creative imagination. Chloe is seen to love Stan very much. Chloe likes to play by her own rules. She looks up to Avery.
-DWAB WIKI

Stan
Says...
-DWAB WIKI


Wel
come!
Welcome to the Dog With a Blog Wiki! a collaborative encyclopedia for everything and anything related to
Dog with a Blog
! There are currently
323
articles
and we are still growing since this wiki was founded. The wiki format allows anyone to create or edit any article, so we can all work together to create a comprehensive database for the
Dog with a Blog
franchise! Don't forget to visit this wiki's
policies
before editing. Feel free to check out our new
forums
for discussing all things related to the wiki and the show.
-DWAB WIKI
Polls
Polls
Are You Excited For Season 3?

Need
Help?
All pages can be edited and you are welcome to
join us
and contribute to this wiki. Everyone is free to create a new page or edit an
existing one
. If you have any questions about the wiki or helping out, you can ask one of Dog with a Blog Wiki's
administrators
.
If you are new to wikis, you may want to read the help page.
Ask for help on our help desk.
If you want to help but you're not sure where to start, try improving the various articles by expanding them.
Another helpful activity would be to check the list of wanted pages for frequently linked-to articles that don't exist yet.
You can find a list of useful templates on .
If you want to experiment with editing a wiki, please do it in a sandbox, not in articles.
-DWAB WIKI